Cart abandonment messages are a super effective way to convert visitors into customers. On average 5% to 10% of your traffic will abandon a cart. With cart messages you'll be able to remind those shoppers about the products they left behind.

When a customer has a cart abandonment they'll show up in your Engage customer records. There will be the date of the cart abandonment, and the message status will appear as "Send Now" for the Cart message. It takes 20 minutes after a cart has been abandoned in order for this record to show up.
Simply click "Send Now" and a preview of the message will appear.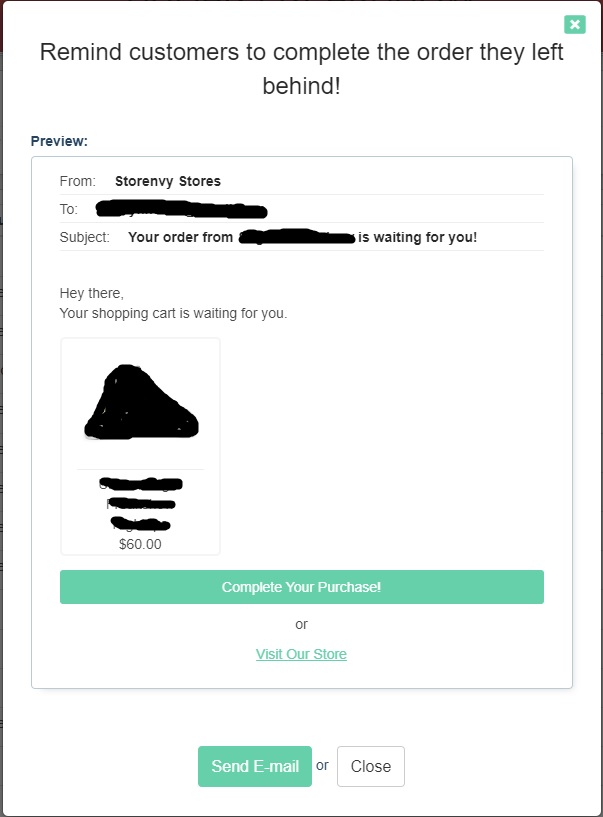 The preview of the email displays products that do not actually reflect what's in the cart. The actual email will show the products that are in the cart. We'll be working on updating this in the preview to show the actual cart products.
After preview hit "Send E-mail" and wait for the success message to appear.

If the email gets the customer to come back to your site and complete their cart a "Success" message will appear in the Cart column.

If you see a customer with a cart abandonment that has an asterisk and the message status has already been marked as sent, that's because it was a marketplace cart and we've automatically sent this message for you.