Set Up Your Products With Variant Pricing
If you are a developer and are using the Storenvy API, then you may find the needed API inputs and responses in the API documentation here: http://developers.storenvy.com.

This feature is completely free and available in your Marketplace Store and Custom Storefront. When you make a sale on the Marketplace, the commission fee is applied to whichever variant price the customer selected when making the purchase.
Make Your Products Amazing
Variant pricing is used to give your customers different options, such as size or color, correlated to price when purchasing. This makes everything a lot easier for you when adding products to your store, and for your customers when checking out. You can edit the variants you have for a product by going to the product page in question and scrolling down to the bottom.
Each products starts out with a default variant. If you only have 1 option for your product you only need to
change the stock levels
here, add a SKU if you want, and leave everything else the same. If you want to add options then the default variant will have the price that you have entered above near the top of the product creation/edit page. This will also be the price that is displayed in your store.

To add additional product variants, click the "Add Variant" button and set the new variant up with the information for your next option. Now you can change the price of each variant simply by clicking, "Set different price". This is particularly helpful for an item that has different sizes. You can add as many variants as you need! You can reorder them by dragging the icon to the left of the variant name.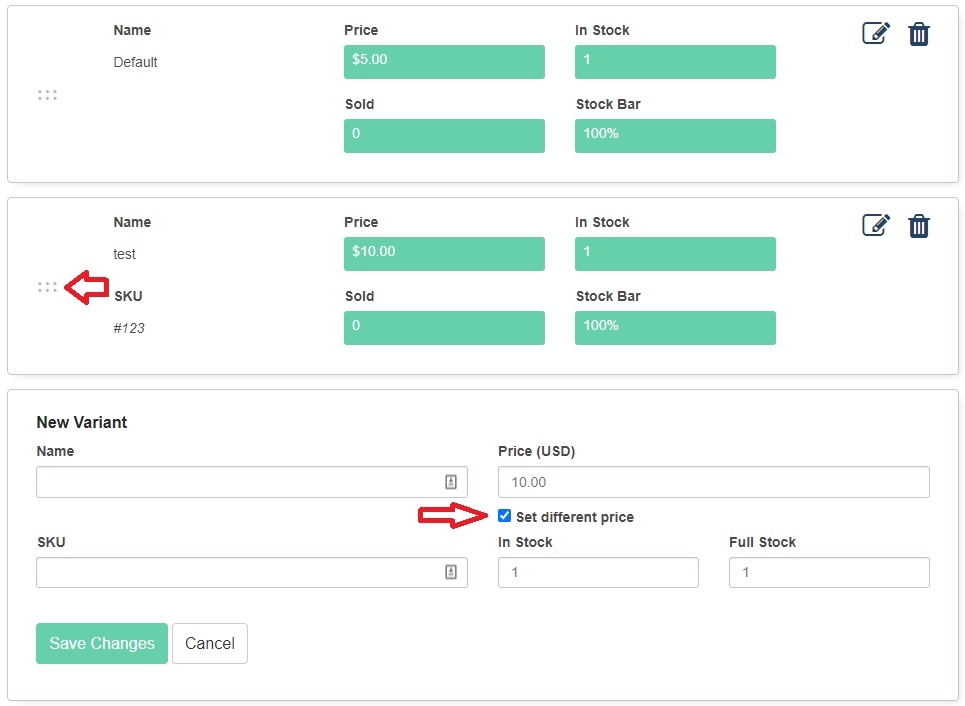 Please note that at this time it is only possible to have one drop-down list in a product for your customers to choose from. If you have multiple types of variants for an item (such as both color and size) then you will need to create variants for the combinations. For example, if the product is available in red and blue as well as small and large then you will need to create four different variants. One could be named "Red - Small", one "Red - Large", one "Blue - Small", and the fourth one "Blue - Large".