(This article refers to Collections created by users with products from any marketplace store. For information about Collections created by store owners within their own stores, go here.)

Collections, like Envies, are a great way to keep track of the awesome stuff you find on Storenvy so you can find it again later. The difference is, with Collections you can separate the items into different groups so you can organize them by category or theme. For example, you might keep a Collection of gift ideas and one of items you want for yourself. Or one of t-shirts and one of art prints. You get the idea.

You can also collaborate on collections with other people, or make your collection completely private.
You don't have to Envy something to Collect it.
Creating a new Collection
Find a product you like in the marketplace and hover over it until the buttons appear. Click the 'Collect' button and then '+Add new collection'. Type a name for the Collection and hit 'Save'. That's it. Simple.
Adding products to a Collection
Same as creating a new Collection, except you check the box next to the collection you want instead of creating a new one.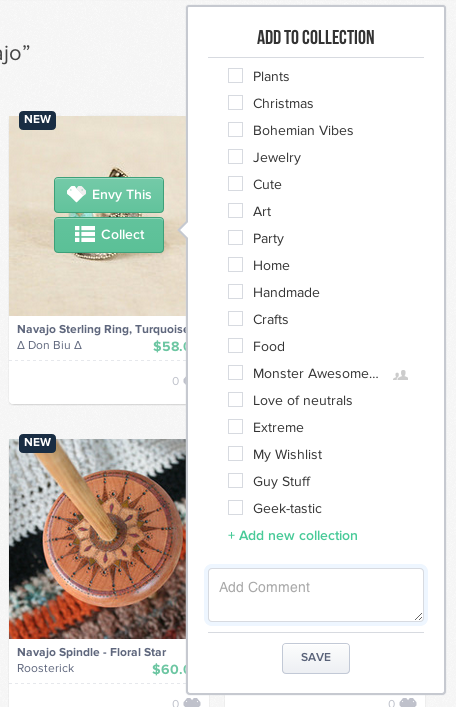 Viewing and Editing Collections
Go to your profile (click 'My Envies') and then select the 'Collections' tab to see all your collections.

To edit a collection, click the one you want to change and then click 'Settings' in the top right.
Collaborating on Collections
In the collection settings you can choose to allow others to collaborate with you on a particular collection. This will allow them to also add products to it. You can decide whether to allow anyone to collaborate, or only users who you follow.

If you want to collaborate on someone else's collection, you will need to ask them to set up the permissions correctly for you.