The Custom Pages feature allows store owners to add additional pages to their custom storefront, further making their store more tailored to the experience you want your customers to have. Custom Pages that we recommend possibly adding --About Us, Photo Gallery, Sizing Charts.

To add a custom page to your storefront simply start by visiting your admin panel, click the 'Storefront' tab followed by the 'HTML Pages' link.

From here click the "Add a Custom Page" button and you will be brought to a new screen allowing you to edit and add your new page.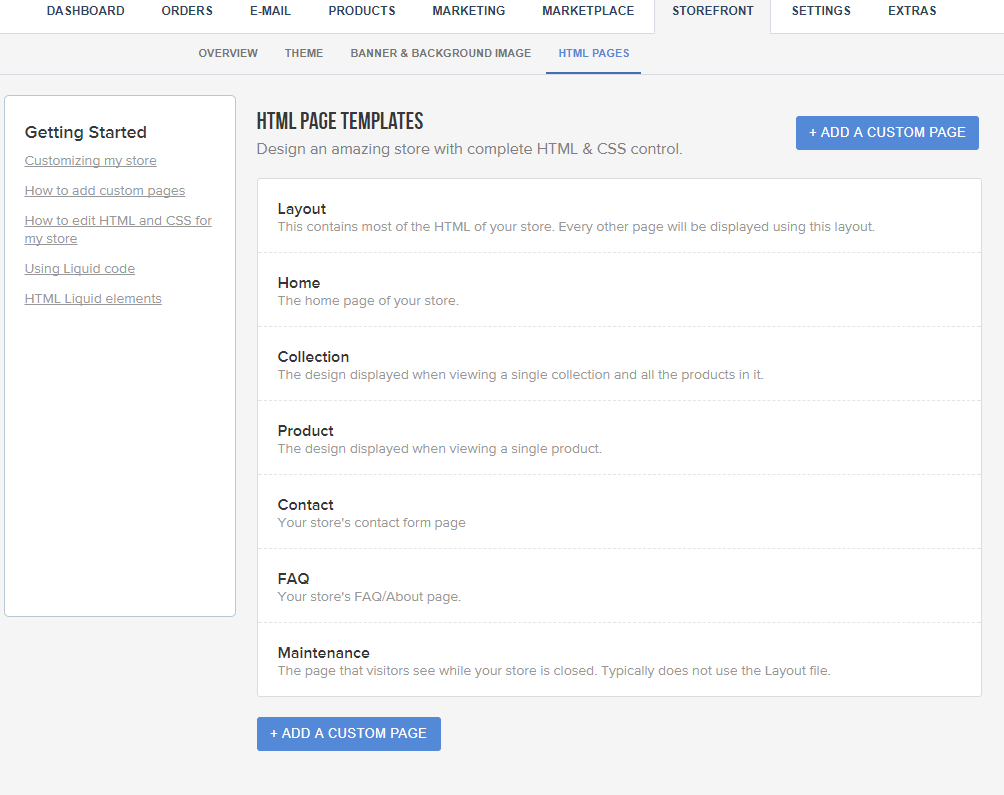 Page Name
Page name is the name of the page you are about to create and will appear along with the rest of your store's navigation links.

Page URL
This will be where your new custom page lives. By default your Page URL will be automatically set using the Page Name you had selected. You can however change the Page URL to something custom if you prefer.

Apply your 'Layout' file to this custom page
By default this is checked and means that your new custom pages will use your store's 'Layout' file, as with all the other pages in your store except the 'Maintenance' page. If you want your new custom page to match the rest of your store (including any headers, sidebars and menus as well as styles) you need to keep this box checked.

Editor
The editor window will allow you to add content to your new custom page. You can do this using our visual editor or switch to HTML mode and input code directly. Please note that you will have to format any images or assets added to this page to fit within your stores layout otherwise you may break your layout. We recommend not using any images wider than 650px.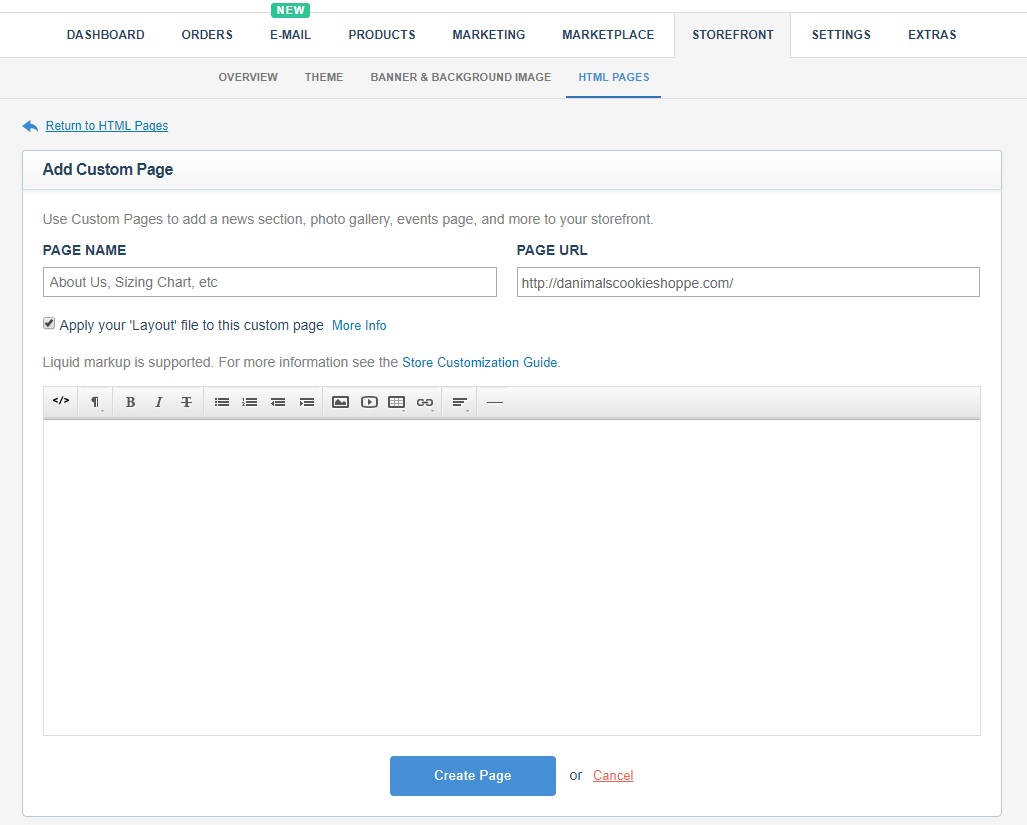 Adding Images or Videos
If you would like to add images or videos to your custom pages they must be hosted somewhere else, as we currently do not have the ability to upload images directly to the page. There are several free services that will allow you to upload your images so that you can use them on your custom pages. (PhotoBucket, Cloud App (Mac Only), Flickr)

Editing or deleting a Custom Page
To edit or delete a page you have created find that page in your custom pages list, hover over that page and you will see the ability to edit or delete that page. You can also reorder your custom pages by grabbing the green crosshair and dragging the page up or down.





Please note that you can not add more than 10 additional custom pages and you must update to the Cooper Theme for Custom Pages to work. If you have customized your store theme the link to your custom page may not be visible in your navigation.