Activating Google analytics
It's easy to use Google Analytics with your store.
Follow Steps 1 and 2 in this guide to get your account with Google Analytics setup. If you already have an account for another site and you need to add a new one, click 'Admin' in the top right of your Google Analytics dashboard, then click the dropdown menu under the 'Accounts' heading (far left) and select 'Create new account'
Get your code from Google Analytics

Copy and paste the code into the "Storefront" tab of your store: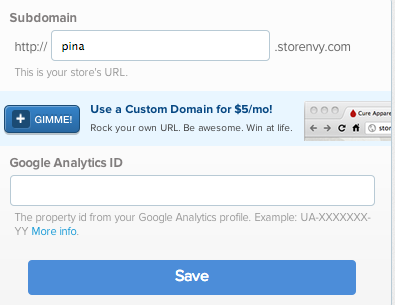 Google Analytics is now activated on your store.

Analytics with eCommerce
You can activate eCommerce tracking in Google Analytics by simply turning it on under your profile on the Google Analytics website.
From the main Google Analytics screen, click Edit next to the profile you just created.
On the Profile Settings page, click Edit in the top right of the Main Website Profile Information box.
Change the E-Commerce Website radio button from No to Yes.
Save your settings.
Your sales will now appear in Google Analytics.