On each product page there is a section for Shipping Notes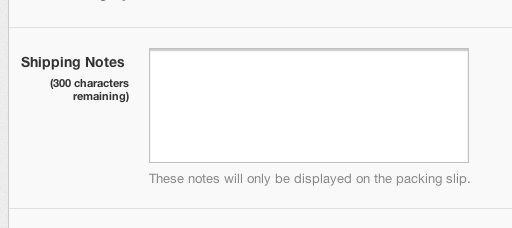 This section is for stores who use our feature to print a packing slip to put in with the order when it is shipped. The customer will not see this message anywhere else.

This allows you to add a custom message to the packing slip, for example:

"Thanks for your order, I hope it arrived safe and sound. If you love your new t-shirt, we'd love to see a picture of you in it. Why not share it with us on instagram (@storename) or twitter (@storename)?
Please note, we only accept refunds within 30 days so if you need a different size, please email storename@gmail.com and we will provide an address for you to send it back to."