If you have already connected your Stripe account to your store and wish to disconnect your Stripe account from your Storenvy store, either because you no longer wish to accept payments via Stripe, or you want to add a new Stripe account, please follow these steps:
First, make sure that your store is connected by going to the
Payment Info
section of your admin settings. If you have connected your store, it will show a green check mark such as in the image below:

If this is the case follow the instructions below. If instead you see a Blue "Connect to Stripe" button, then please scroll down to the section entitled "Disconnecting your Placeholder Stripe account".
Disconnecting your Stripe Account
1. Login to your Stripe dashboard at
https://stripe.com.
2. Once logged in, click on your account settings (Top right corner drop-down menu).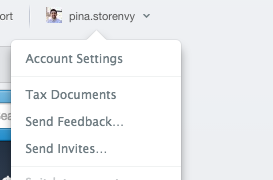 3. In your account settings, click on the Apps section.
4. From there, just click on the "x" button next to your Storenvy store and you will have disconnected your Stripe account from it.
Disconnecting your Placeholder Stripe account
If you are seeing a blue "Connect to Stripe" button in your Settings tab under "Accepting Payments" and have Stripe as a payment option when checking out from your store, or have already received a payment via Stripe, then this is due to a Stripe placeholder account that was created for your store. This was done for all stores who still had their Marketplace store on after the Opt-Out announced deadline so that any store still waiting to connect to Stripe would not be removed form the Marketplace once the switch to Stripe was made.
Please contact support at support@storenvy.com if you have any further questions about connecting to your Stripe placeholder account.