For packages trackable via USPS, here's a quick guide to what some of the statuses mean:





This means the seller has created and paid for a shipping label online but hasn't yet given the package to USPS. Usually this means they haven't made the trip to the mail box yet (or the package is sitting in the mailbox waiting to be scanned by a USPS worker) and there is nothing to worry about. In very rare cases it may mean the store has created a shipping label to support their pretense that they have shipped an item when they haven't.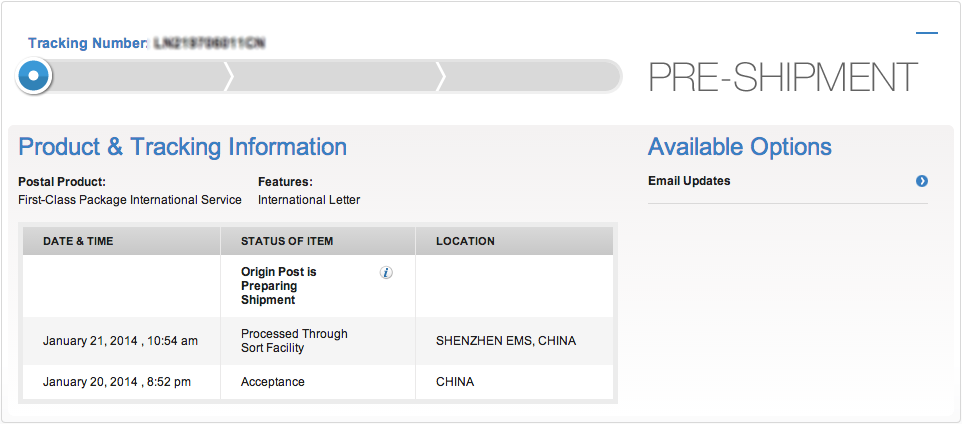 Although this says 'Pre-shipment' it isn't the same as the status above. When you see 'Origin Post is Preparing Shipment' your package has been shipped. Typically you will see this for an order shipping from abroad. USPS doesn't have access to any data on the package until it is actually in their hands. For the first part of the package's journey it will be carried by a local shipping service so this tracking information will not be updated until the package reaches the US.




If you see this, it means the package has been delivered. If you haven't actually seen it yourself, it probably means USPS delivered it to a neighbor, or sometimes to your local Post Office. In this case, your best option is to contact USPS, give them the tracking number and ask them to hunt it down for you.





This one could mean 1 of 2 things:
1. The tracking number isn't valid. This doesn't necessarily mean the store owner is trying to scam you with a fake number, it could just mean there is a typo in it.
2. It could also mean that the package is being shipped by a different carrier and USPS has no data on it. If this is the case, you could try your local shipping service's website or ask the store owner for the URL for the site you can track it on.